Dance procedure
HOW MANY DANCES DO I HAVE TO DO?
WHO DANCES WITH WHOM?
HOW MANY SONGS DO I HAVE TO PICK?
Questions which almost every DJ who provides discos for weddings will have been asked countless times. The answers being, You don't have to do any dances, or dance with anyone and there is no specific number of songs you have to pick.

However, it is TRADITION for the Bride to dance with the Groom and for several other combinations of partners to dance with each other to start off the evening's entertainment.

In the days before Discos, wedding receptions would rely on live entertainment and the services of a Master of Ceremonies. It was the Master of Ceremonies job, throughout the day to announce and conduct all the formal procedures of the day. i.e. introducing the speeches, Introducing the toasts etc., right through to introducing the "Formal Dances."

There are 4 Formal Dances, in order to accommodate the Bridal party in keeping with tradition. This presents the Bride and Groom with the opportunity to perform their first dance together as MR & MRS. It also acts as a photo opportunity for guests to take pictures and videos of the couple dancing together. Bear in mind also that this might be the only time that the Bride & Groom are on the dancefloor together throughout the night. It also signals the start of the evenings entertainment.

Here at STRAIGHTSHOOTER DISCOS we believe in keeping to this tradition and ALL our DJs will act as master of ceremonies and guide you and your Bridal party through the varying combinations. Nowadays these traditional combinations will vary slightly due to modern circumstances.

Our DJs will take a few minutes of your time at the start of the evening to confirm certain details with you before commencing. We will check with you, if both sets of parents are at the wedding and if they are still married to each other. If they are not present we will alter the Formal Dance procedure to suit. If they are present but not married to each other any longer, or they have different partners, again we will alter the Formal dance procedure to suit. We will also check on the number of bridesmaids and partners.

WHO DANCES WITH WHO?

Keeping it straightforward and simple, the FORMAL DANCE PROCEDURE runs as follows:

1st DANCE
BRIDE dances with GROOM Halfway through
BRIDESMAID and BESTMAN will be invited to join them

2nd DANCE
BRIDE dances with BESTMAN
GROOM dances with BRIDESMAID At this point PARENTS OF BRIDE and GROOM are invited onto the floor

Halfway through this dance other guests will be invited to join the Bridal party on the floor

3rd DANCE
BRIDE dances with HER FATHER
BRIDESMAID dances with GROOMS FATHER
BESTMAN dances with BRIDES MOTHER
GROOM dances with his OWN MOTHER

4th DANCE
BRIDE dances with HER NEW FATHER IN LAW
BRIDESMAID dances with BRIDES FATHER
BESTMAN dances with GROOMS MOTHER
GROOM dances with HIS NEW MOTHER IN LAW

Our DJs will invite the relevant pairings onto the dancefloor and will direct the changing of partners at the relevant times. Other guests will be invited to join the Bridal party on the dancefloor. You don't have to remember any of this as we will do it all for you.

Following this procedure gives your evening a professional start, gives guests a chance to take photos and videos of the Bridal party members dancing with each other and tugs at the heartstrings of your older guests who remember how things used to be done. It also gives a good impression as to the Professionalism of your DJ and gradually increases the number of people onto the dancefloor. After all, you've used professionals throughout the rest of the day so why should your evenings entertainment be any less professional.
Ideas For Your Party Night
WEDDING FAYRES
we will be attending the following wedding fayres: FIFE WEDDING SHOW Sunday 19th February The Rothes Halls. read more
Mood Lighting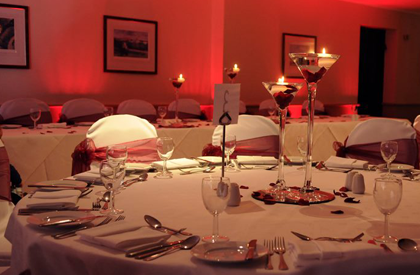 MOOD LIGHTING is a cost effective way of changing the colour, mood or feel of your venue. Mood Lighting