TESTIMONIALS
KATIE - JANE HELIKER 2022 Andrew was the DJ for our wedding reception last week and he was absolutely fantastic from start to finish. I had several requests and little details and he executed everything perfectly. We had the best time. Thank you Andrew!.
KIRSTEN McANDREW  2022  Andy provided the disco for our wedding reception at the Garvock House Hotel and he was GREAT!. He listened to all our requests and played a great mix of songs which had everyone dancing. Would definetly recommend! He even managed to capture a good few photos from the night which was a great surprise, always good seeing some action shots. Thanks Andy.
JULIA HART  2021   Excellent evening hosted by Straightshooter Discos, great range of music played appealing to all age groups. 5 star x
JOHNNY DINSDALE 2020  Andy provided the entertainment for our wedding reception on Saturday evening at Fernie Castle and he knocked it clean out of the park. I don't think I've seen a dancefloor as full for the whole duration of the night ever. Amazing from start to finish. Even remembering the smallest detail such as Elton John's" I'm still standing" being our 21month daughters favourite song from a passing comment we made when he came to visit us and dedicating it to her on the night. On behalf of my new wife and myself, I thank you so much.
CARLA DUFFY  2020.  Had Andy for my birthday party, was a great night and great song choices! Would highly recommend.
ANNETTE TRAN   2020 Absolutely fantastic evening celebrating Steve's 60th birthday. I would highly recommend Straightshooter Discos. Thanks Andy, the choice of music was perfect for all ages.
GAIL OWENS 2019  Our wedding evening was so much fun, thank you so much for making it so special. You were fab! Music was perfect and everyone had a ball...good banter too...you kept the floor alive...can't thank you enough.  Thank you for the photos and videos too.
LOU WALKER 2019 Andy did an awesome job for my 40th birthday party, we all danced the night away. Would highly recommend him to everyone.
MARK JOHNSTONE ASDA 2019 Andy hosted our works quiz night/party night for us
He did a fantastic job compering
He played a great range of music
He used fantastic lighting
He had music to match any requests
He did a great job. Thanks Andy
CHELSIE SHAW 2019 Andy put on a great night with great music to suit everybody for my grans 70th birthday party at the weekend. When I first contacted him, he responded quickly and was very helpful. 
Excellent service and I would recommend him to anyone looking for entertainment for upcoming events. Thanks again.
ANNETTE BRABY  2019 Once again a fab disco by Andy, excellent music and chat, can't believe its 30 years since he played at our wedding. Photos and videos much appreciated.
CLAIRE McINTOSH May 2018  We were privileged to have the disco at our wedding and what a fantastic time we had. My hubby is a massive 80's music fan and the choice in music didn't dissapoint. So happy the dance floor was full all night.
KATIE SAYER  August 2018. Cannot recommended enough, Andy was fantastic. Listened to our requests and played fantastic music which had everyone dancing the entire night.Really made our wedding special
Lots of our guests commented on how good the music was. If you're getting we would definitely recommend Straightshooter Discos!!!
MANDY SCOBIE  May 2018. I got a party prop box delivered today and I have to say absolutely fantastic value for money. I can't wait until me party on Friday so we can enjoy the products. Again, Andrew thank u so much. Will definitly be back for more.
DEBORAH ROUGVIE ADAMSON April 2018. Had Andy Wylie do the disco for my birthday party and he was fab, highly recommend him---he played all my favourite music.
STEPHEN STEELE. March 2018  Been to several events hosted by Andy, always a good night. Keep up the good work.
GILLIAN DOIG.  April 2018 Highly recommended.
LINDA MILLER. 22nd November 2017. Andrew did our wedding reception for us after having our wedding on the 30th September in Dornie. We had our reception back home in Markinch and Straightshooter Discos did an amazing job for us. Our guests couldn't keep off the dance floor. Highly recommended.
CAROL ROBINSON BUCHAN. December 2017.  Hi all, if you're looking for a fab night with great music and even better banter, the Andy Wylie is your man. Used him several times now and never been let down at all. Try him out xxx.
WILLIE FULLERTON  2017.  First class service. Andy done our our silver wedding anniversary and what a fantastic evening, keep up the good work Andy.
JOHN AIRLIE November 2017  Attended a wedding last weekend and Andy was first class. Superb professional local company.
FRANK McCANN November 2017.  Have used Straightshooter Discos a few times, the last time being for my son's 21st. Great night, all tastes in music were catered for. Highly recommended.
SUSAN COWAN, November 2017 Fantastic, fun disco, great night with these guys. Brilliant service. Highly recommended.
CHERYL MENZIES  Hi Andy, Absolutely delighted with the Candy Cart. It was very popular on the night. The bags also received a lot of compliments with guests telling me how lovely they were. Genuinely over the moon with the service and thank you so much for everything you did to help me. I would definitely recommend your company and will use you again for any future events that I plan.  Thank you so much.
HELEN JONES, First class service and excellent entertainment every time. I would never use another dj or company than this. Highly recommend!!!
Rebecca Pysl I have had Straightshooter Discos for several parties including my boyfriends 21st. They have every song from young to old. Highly recommend.
Jan Wylie, We used Andy for our daughters wedding celebration. He's very professional, not just the run of the mill dj set. made the evening as memorable as the daytime celebration, added the fun element with props. Our guests were full of compliments. I would highly recommend Straightshooter Discos along with the Candy Cart supplied by Andy also.
Ashley & Keith,  I wanted to thank you again for dj'ing at our wedding reception on Saturday, me, my husband and all my guests had a great night as you kept the dance floor busy and played and played a mix of great songs both new and old! I have had messages to say how good the disco was! I will definitely be recommending you to friends and family looking for a dj in the future. Thanks again Ashley and Keith.
KELLY & WAYNE ALLAN,  You done a fantastic job. Going by the pics the dance floor was always busy. Was a fantastic night. Thanks very much Kelly & Wayne.
DEREK & KAIN COBB..".We would just like to thank the DJ who provided the music for our engagement party at Pinkertons. He put on a brilliant party that accommodated for all our guests with ages ranging from 17 - 80. He helped the night run very smoothly and was really accommodating. A credit to your team!! Please can you pass on our thanks to him. We would highly recommend your discos to our friends and family for future events."
KIMBERLEY MOXHAM....We were both very happy with the service you provided and would not hesitate to use you again or recommend to friends.
LIAM SHEPHERD....My wife and I were extremely happy with the entertainment. The dj tailored the music to our tatse extremely well. All of our guests were happy with the music and general entertainment provided - not one person had a bad thing to say, genuinely! We were sceptical about hiring a dj as we'd attended several wedding receptions over the last year and we (as well as the guests and bride and grooms) were unimpressed with the entertainment on those nights.
We honestly cant thank you enough for the choice of music played as well as the quantity of songs available for requests. It certainly made the evening a great experience for ourselves and our guests. We've recommended Straightshooter Discos to anyone we know looking to book a dj. Once again thanks for the great service and the great dj provided.
DAWN AND KEITH CROMBIE
Hi Andy, we would like to thank you for your recent services at our wedding, we had an enjoyable night and you played a lot of good music for all age groups.
Everything went to plan throughout the night and it was good of you to play my cd for our Line dancing guests. Everybody was well entertained. Would recommend your services to any family and friends. Regards, Dawn and Keith Crombie.
DENISE and the  KENNOWAY STAFF...We had a great night with Straightshooter Discos and all the feedback was very positive. We would definitely use your services again when the occasion arises.
Thanks, Denise and the Kennoway Staff.
KAREN...Hi Andrew we were delighted with your disco thanks very much. As you know our friends enjoyed it too as I know Fiona has booked you for her party in May. Thanks again, Karen.
EMMA BENCE...Just want to say a massive thank you for a night of fantastic music at my dad's 50th birthday party. Sorry it has taken so long for me to email, our family from America have just gone home and I haven't had the chance to email. Everyone had a brilliant night and even the bar staff commented on how much they enjoyed the mix of music. We've got an 18th and a 21st in two years time so we'll be getting in touch neare the time. Thanks again.
PAMELA BURNS...How are you@ I've been meaning to contact you and the hotel to say what an amazing disco you provided. Everyone commented on what a brilliant night it was and how good the music was, so thank you very much. You were excellent and very friendly and helpful. I will definitely recommend you to others. I have copied the hotel in also so they can see my feedback.
LIZ and  CAMMY PHILIBAN.....Hi Andy, You were excellent at our wedding, the dance floor was well used, everyone enjoyed themselves. This was down to you and the great music you played. Thanks
KAREN DAWSON....Just a quick email to say thank you very much for Saturday night, I thought you were excellent, seemed to cater for everyone and the dance floor always had someone on it. Many thanks once again and I will have no hesitation in recommending you to many of our friends and colleagues.
VALERIE GRZESINSKI...Hi Andrew, just want to take this opportunity to say thanks for the disco you provided on Friday night at Dunnikier Golf Club. We were quite a small group but the music was great and the lighting was impressive. Would definitely use and recommend you in the future. Kind regards..
MARINA VALENTINA ..I meant to email you after the party but I've been so busy I didn't have the time. The DJ was AMAZING! Couldn't have had a better one. Excellent music and entertainment. I was really pleased.
Thanks so much.
REBECCA WISHART...Hi, I would just like to thank you for the entertainment on Friday night at the Charter Club. The DJ was fantastic and received numerous compliments from my guests. We would definitely recommend you to anyone looking in the future. Thanks again, Rebecca.
MYRA & JOHN CRAIG..Hi Andrew, not only were we happy with the service - we were delighted with it. Everyone who was there said the DJ was good fun and the music was just right for the age group (young and old)> Volume was perfect - no one had to leave the because the music was too loud. Compliments re the disco were flying yesterday at one of the line dance classes and I expect it will be the same at the Wednesday class.
KAREN..very happy with the service given at the birthday party. Good interaction, mixed song list, good mix of cheese pop and current. received positive comments from many of the guests. Thank you very much. Highly recommended business. take care.  Karen McEwan
GRAHAM and HEATHER HALL..Just wanted to leave you a testimonial on the website and also let you know I have posted your name on various forums I regularly use. We loved how acommadating you were and appreciated the way you dressed on the night, very sharp. The music and the lighting were phenomenal and we had an amazing night. Thanks Andy.
DAVID  and  AMANDA ROBERTSON...Hi Andrew. Thank you for providing the disco for our evening reception. We had an amazing time, the disco was perfect. I don't think the dance floor was ever empty....thanks again, we would definitely recommend you to our friends and family.
KAREN & JEREMY CRAIG...Hi Andrew, apologies for delay in response but we have just arrived back in New Zealand. I wanted to email you to thank you for your services at our recent wedding at Kilconquhar castle. Jeremy and i both felt that you read the mood of our party and were able to ensure that the party atmosphere continued throughout the evening regardless of who was on the dance floor. We loved the mixture of music that you played and had several friends and family comment on how good you were. Having organised the wedding from new Zealand we were unsure as to how the final offering would come together, however you ensured that we had an amazing party to remember. The fact that you knew the venue so well added to us feeling totally at ease and our boys loved the mood lighting.
Once again many thanks for your attention to detail and ensuring we had such a memorable evening.
JOHN MARTIN...It was a great night Andrew, and many thanks for making it a special one- you were spot on all night as usual. Thanks again Andy - I know Emma and Andrew were well happy.....and will be reflecting on their special day as they sun themselves all over the USA while we suffer the rain. Thanks again.
DAVID AND AMANDA ROBERTSON
Thank you for providing the disco for our evening reception on 4th August. We had an amazing time,the disco was perfect. I don't think the dance floor was ever empty.Thanks again, I will definitely recommend you to our friends and family.
FIONA ROSS says....... We just wanted to say thank you for the fantastic disco you provided at our wedding reception. Everyone really enjoyed themselves and the music was just right. If we ever need a DJ in the future yours will be the first number we call. thank you again for a brilliant night.
 GRANT & LOUISE say....... "...We also wanted to thank you for making our day so perfect...the entertainment was great and the feedback from guests has been amazing...don't be surprised if you become booked up years in advance."
 A. PATEN says ....... "...thank you very much indeed for the great disco that you provided for my birthday. we all thought it was excellent and everyone had a great time..."
 SONIA HORNE says........ "Thank you very much for making my party such a success. the music which was played was definitely in agreement with the party goers. everyone complimented on your choices..."
 SARAH SMITH says........ "Thank you so much for being the DJ at my party on 6th July. You were fantastic and many people commented on how good the music was. i would recommend you to all my friends. Thanks once again"
 J. & S. KEILLER said.......... "Thank you very much for the champagne and for the great night you gave us at our reception. it was really appreciated. everyone had a great time...."
 M & B MATHERS said.......... "Brian and I would just like to thank you for making Kerry and Rab's wedding such a success, all the guests commented on your great choice of music. Everyone thoroughly enjoyed themselves. The Runrig finale was brilliant and rounded off the evening."
 I. GRAHAM said.......... "...Music at the function was brilliant. Everybody at work is still talking about the party and are already talking about next years event. The service you gave was excellent. Thanks again for making it a great night."
 S. GILCHRIST said.......... "We thoroughly enjoyed the night. Feedback from all the guest has been positive. DJ was extremely helpful on the night. everyone had a great night. would highly recommend."
TRACY LAFFERTY.....16/6/10
"Everything was perfect, disco was brilliant....."
GORDON & GILLIAN....23/12/10
"The disco was fantastic, a lot of the guests liked the disco and were asking who we had booked, so we passed your name o. We'll be sure to book you for any future events"
 ANDY CRAWFORD.....10/6/11
"Hi Andy, just to say thanks very much for the wedding disco, as usual the dance floor was full from the very first dance to the last tune. You're still the best . Many thanks from myself and all at the wedding cheers."
 JOHN AIRLIE......13/06/11
"Big thank you to Andy & Straightshooter Discos for providing the tunes at our Rock Night at Pinkertons. Twice I have booked Andy
this year and would not go anywhere else. Another roaring success and all down to the man behind the decks. Thank you again."
 ANDREW SNEDDON......15/8/11
"Thought I would email you to say thank you for making Sarah & David's reception at the Garvock Hotel such a success, you managed to keep the dance floor full, which isn't an easy task."
 DEBBIE KING......24/9/11
"Just to say a massive thanks for the party, your music was fantastic....the girls loved it as you could probably
tell."
Ideas For Your Party Night
WEDDING FAYRES
we will be attending the following wedding fayres: FIFE WEDDING SHOW Sunday 19th February The Rothes Halls. read more
Mood Lighting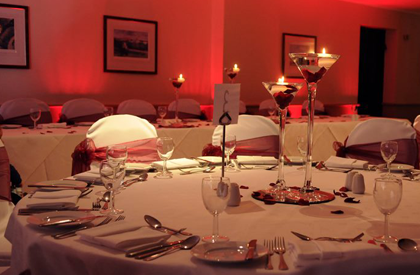 MOOD LIGHTING is a cost effective way of changing the colour, mood or feel of your venue. Mood Lighting