WEDDING AT FERNIE CASTLE
---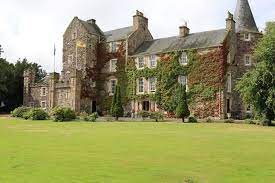 WEDDING AT FERNIE CASTLE.

The month of June saw us provide the music
for the wedding of Kerry and Michael Coote. It was a hot sticky night both
outside and inside on the dancefloor.
The newlyweds chose Ed Sheeran and Taylor Swift's version of "The Joker
and the Queen" for their first dance song. This was followed by Elvis
Presley's "Can't help falling in love", and then Ellie Goulding's "Love me
like you do".
As well as providing the music and entertainment we also supplied our
stunning purple Mood Lighting around the circular ballroom.
Photos can be seen on our facebook page.
---